In Wyoming with Noemi
Thwacky and Whacky arrived safely in Cheyenne and were pretty excited because they'd heard about Wyoming (even if AnglRdr hadn't) and were hoping they would be seeing Yellowstone. Noemi had to explain to them that they were in the wrong corner of the state for that. Then they asked about Frontier Days and she had to explain that they were in the right area, but two weeks too early. The fish consoled themselves by trying on jewelry while Noemi was trying to put tags on it.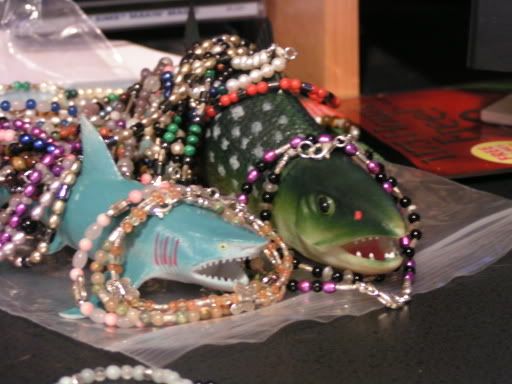 Then they decided to try to strike a blow for fishy justice and subdue a cat. As you can see they weren't very sucessful, as Cleo seems pretty unconcerned about the whole thing. At that point Noemi moved Thwacky and Whacky to a safer location before they tried to subdue Scooter and got chewed on.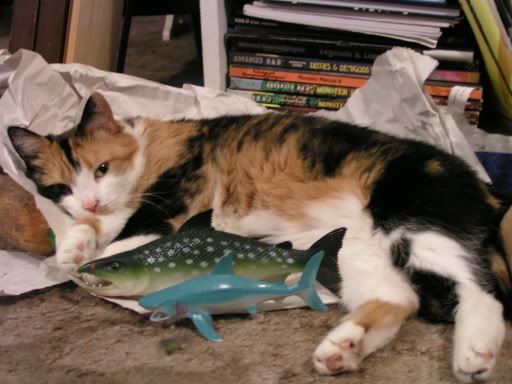 The weather finally cleared up and so Noemi took the fish to see one of the giant cowboy boots that were part of a community art project. The fish were really lucky because this boot is owned by the state agency Noemi's husband works for so he could get them in behind the ropes for a close up view.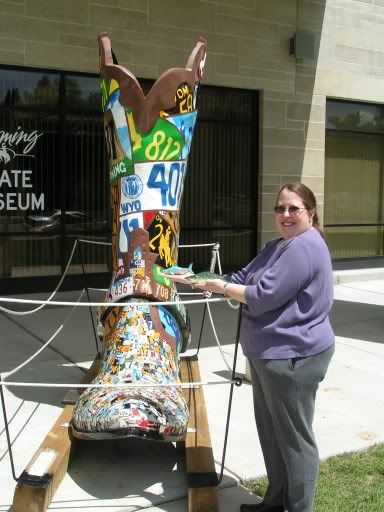 Noemi then took them to see where Frontier Days would be taking place in two weeks and wandered around the park across the street. There they stopped to look at locomotive 1242 which had been nicknamed Old Sadie. The fish were really interested in the
interior fence. Noemi explained it had been made from old metal objects by a local man who had made a similar fence for his house.
With that the fish were ready to move on and headed off to California to visit MacLloyd.