In Newfoundland with RingKeeper and Loony
Thwacky and Whacky arrived on the Rock on February 16th, tired but none the worse for wear. RingKeeper and Loony let them rest for awhile because there was so much they wanted to squeeze into the fishes' short stay. They were confident in our ability to show Thwacky and Whacky a good time because if there's one thing Newfoundlanders know, it's fish. And if there's another thing they know, it's good times!
On Friday night Thwacky and Whacky attended a Fog Devils hockey game with RingKeeper and her husband. They enjoyed the view from the box seats but wanted to know what exactly a Fog Devil was. RingKeeper told them she'd get back to them on that. They thoroughly enjoyed the open bar and by the end of the third inning the score was 5 to 2 for the Fog Devils and they didn't give a NFBSK what the devil a fog was…or shomething. Whatever.
It took a little while for the fishies to get back on their fins, but when they did they were raring to go. Cape Spear was on the list, and Thwacky expressed some interest in being the most easternly fish in North America, until we explained that the fish in the water were probably more easternly than he was. They thought about taking a dory out, but with the high winds it was just too risky.
Signal Hill was very cold, but the fish got a great view of the city before they dove headlong into the heart of downtown. Loony had to hold them very tightly to ensure they didn't blow away. And no trip to Newfoundland is complete without a stop on George Street. Thwacky wanted to go to O'Reilly's Irish Pub and Whacky was interested in Trapper John's. Loony had to step in and defuse what could have been a very nasty fin slapping. The fish had to be threatened several times with detailed instructions on how to cut out fish tongues. Everyone decided to stop at the Celtic Hearth for brunch instead (yes, they were bar hopping that early). They had waffles (of course), and the fish took time for a pint before heading back out into the -22ºC weather.
Before RingKeeper and Loony let them go, the fishies were made honourary Newfoundlanders with a Screech in. They kissed the puffin's arse, answered the age old question "Is ye a Newfoundlander?" with the eloquent response "Indeed I is, me old cock, and long may your big jib draw," and swallowed down their Screech with barely a gasp from their little gills.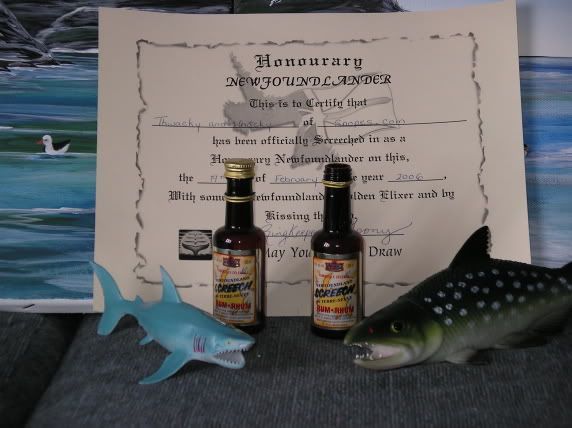 When Loony's cat decided Thwacky looked like lunch, everyone figured it was time to bid the fishies good-bye and sent them off to New Brunswick to visit UEL.