In North Carolina with Radical Dory
Well, the fishes arrived in Winston-Salem to much glee. Radical Dory had told her parents and sister about what they were doing, and as they're not terribly exciting people, they recieved quite a welcome from Radical Dory, Mom, Julie, and even Oscar when they arrived.
After a day spent dropping off resumes around town, Julie and Radical Dory set out showing Thwacky and Whacky the area. They found a sign that seemed to sum up their day quite nicely. "Why yes, good people at Reynolds Presbyterian...yes, we do. Thank you for asking." (This is probably not what R.J. Reynolds had in mind when he built the church. )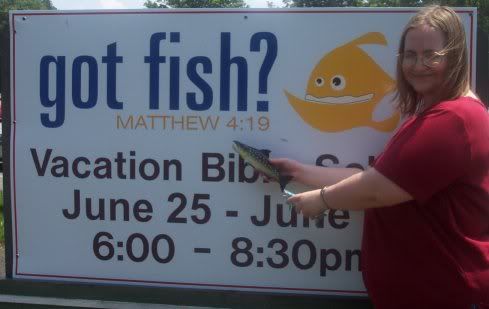 On to SciWorks, which is not only a fun museum, but where Radical Dory works (for now, anyway). Thwacky wanted a closer look at our giant T. Rex head and with southern hospitality in mind, Radical Dory kindly obliged him. Whacky wasn't quite so thrilled...he kept "falling" out.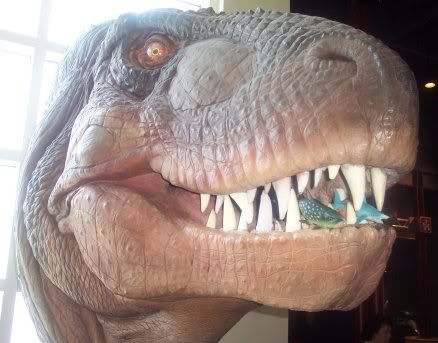 Radical Dory and Julie then took the fish outside to meet the museum's animals. The critters were rather indifferent except for the lovely otters, Ollie and Mollie. They were really, really friendly towards Thwacky and Whacky. The fishies felt uncomfortable; can't imagine why.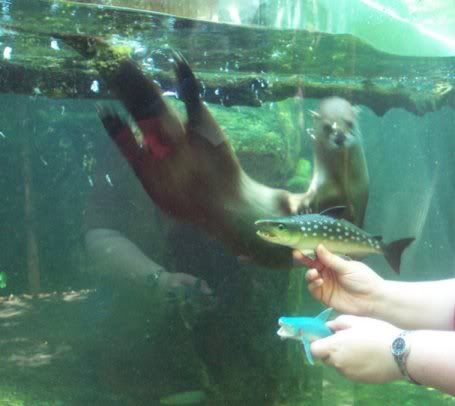 Whacky said that he felt tired and would just like to have some coffee. In typical North Carolina fashion, you just can't have coffee. Instead, even coffee becomes an occasion for showing off a little.
Radical Dory and Julie took the fishes home and awaited Noemi's message as to their next destination.